SEA-R - Sustainable Energy in Adriatic Regions: Knowledge to Invest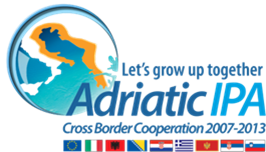 Istarska regionalna energetska agencija (IRENA) izabrana je kao partner u projektu SEA-R (Sustainable Energy in Adriatic Regions: Knowledge to Invest) koji se financira putem IPA Jadranska prekogranična suradnja 2007. - 2013., čime joj je odobreno 370.380,00 €. Ukupna vrijednost projekta iznosi 1.960.338,00 €, a 85% dolazi iz pretpristupnih fondova EU-a.
Opći cilj SEA-R-a je promicanje znanja o obnovljivim izvorima energije i energetskoj efikasnosti u Jadranskoj regiji, s naglaskom na investicije. Projekt se sastoji od tri glavna potprojekta vezana uz tri identificirana izvora energije, sunce, more i znanje. Projekt ima i praktični dio, a riječ je o izgradnji fotonaponskog solarnog sustava snage 10 kW u Labinu. U zemlji partneru, Italiji, fokusirat će se na energiju mora, odnosno na proizvodnju bioplina iz morskih algi, što će se ispitati u pilot-postrojenjima u Ferrari. U sklopu projekta otvoren je demonstrativni i informativni punkt o održivoj energiji u Labinu, gdje je sjedište IRENA-e.
Rezultati projekta, kao što su regionalna baza podataka o tehničkim i energetskim karakteristikama javnih zgrada i instalacija male solarne elektrane u Labinu, predstavljeni su u sedam gradova. Rezultati ovih projekata trebali bi poslužiti kao smjernice za veća ulaganja kroz javno-privatno partnerstvo.
Više informacija: http://www.sear-project.eu/hr/